Our Company
Highlights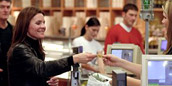 The MasterCard Story Learn about our history as a driving force in electronic payments, from early credit cards of the 1960s to the contactless and wireless payment options of today.

Company Leadership Our leaders are notable not only for their breadth of experience, but for a level of geographic diversity that is crucial for a global enterprise.

Worldwide Offices Our unified global structure uniquely positions us to serve our customers anywhere in the world.